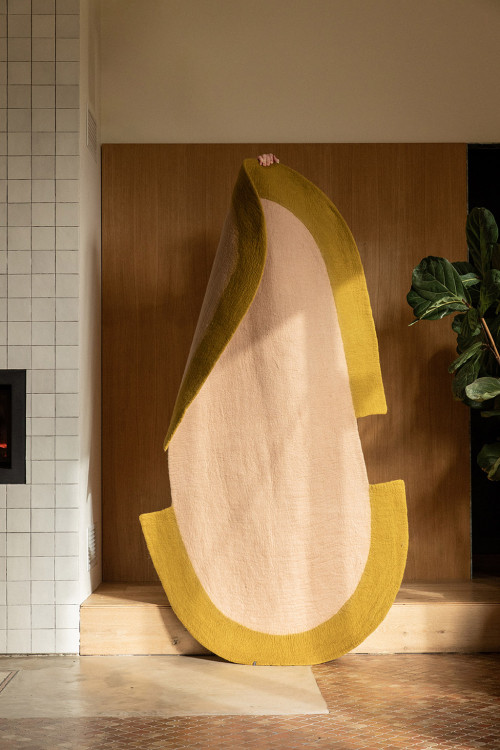  
Round rug or nearly round 100% felt

The SCARABEE DUO RUG is the larger cousin of our rug with the same name. As with its precedent, geometric shapes interlock, curves and lines complement each other to bring softness and character to your room. In a contemporary style with a nod to the seventies, this rug made from felted sheep's wool, produced by our Nepalese artisans, will reawaken your living room with originality.
The +: In some cultures, such as Ancient Egypt, the scarab beetle is a sacred animal, and a symbol of luck and rebirth. Yet another reason to choose it!
Free trade, artisanal craftmanship – Felted sheep's wool rug made by hand in Nepal. Each item is unique.
Felted or boiled sheep's wool is a natural, fine, and renewable material.
Naturally hypoallergenic and preventing the development of dust mites, it looks at home in every room of the house for daily use.
Care instructions
Vacuum your carpet regularly - especially at the beginning - to remove the excess wool from its manufacture. In the event of a stain, absorb immediately, then rub gently with a damp sponge. You can also use soap or a suitable stain remover if stains persist. In the event of major damage, your carpet can be washed in plenty of warm water, rubbed with soap. In this case, squeeze the carpet without wringing it too much to remove the water, then dry it flat. You can iron it damp to restore its shape. If your carpet is pilling, cut it flush with a pair of scissors. See our Care and washing page for more information. See the 
care instructions
 page for more information.
check_circle Review sent
Your comment has been submitted and will be available once approved by a moderator.
error Your review cannot be sent